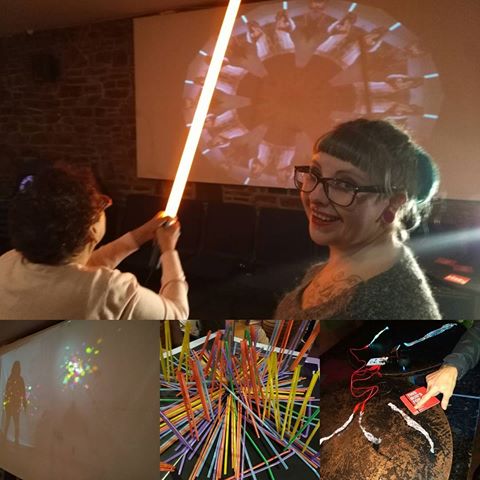 We made some lovely new discoveries for Somantics when we participated in the Fun Palaces weekend, organised by artist Terry Chinn. Using a light sabre as an input device generated some gorgeous, distinctive patterns with Kaleidoscope, which contrasted with the more subdued mix of human body patterns.
Terry set up a large sheet as a screen for shadow puppets. When the kinect camera picked up the movement of the puppets with Sparkles a magical effect was created around the puppets as they moved, adding an extra layer of drama to the puppet theatre. This is the essence of Fun Palaces, here is their manifesto:
WE BELIEVE IN THE GENIUS IN EVERYONE, IN EVERYONE AN ARTIST AND EVERYONE A SCIENTIST, AND THAT CREATIVITY IN COMMUNITY CAN CHANGE THE WORLD FOR THE BETTER.
WE BELIEVE WE CAN DO THIS TOGETHER, LOCALLY, WITH RADICAL FUN – AND THAT ANYONE, ANYWHERE, CAN MAKE A FUN PALACE.